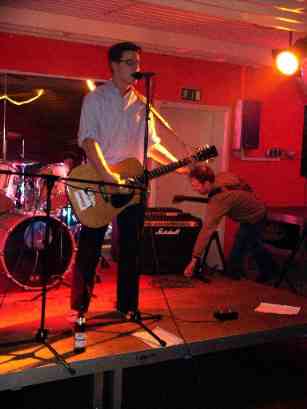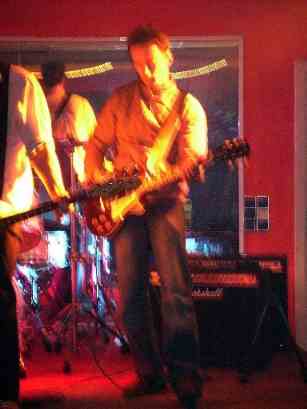 Dear Sophie, I`ve just returned from Königsbrunn/ Augsburg to give you my rapport from the concert. Unfortunately I have to write in English today because I forgot my dictionary at home.
The concert was in the juz (Jugendzentrum) of Königsbrunn which used to be a Schweinekoben, a larger pigstall.
The house has two floors; downstairs you can find a kicker table (le foot de la table) and a pool table. So before Thorsten started with his solo programm, Mathias and Arthur played kicker and drank some beer, so did I.
Actually, everybody was waiting for more people to come but Thorsten was eager to play and all of the sudden we heard him playing upstairs in front of about 7-10 fans. He played about 3 songs ( I`m sorry to say that I don`t remember the titles because it is my 2. T.P concert).
I was surprised that this solo programm was so short but then the Umlaut entered the stage and Iwas rewarded with a great musical experience. It rocked. It wasn`t only the music, truely performed by excellent musicians, but it was much more fun to see how everybody was happy to be on stage and playing with heart soul and ustersbacher. I should have danced, I can`t find a reason I didn`t. It was all in all a great concert with two encores. You should have been there, but I hope you come next time, maybe I find more courage to dance then.
After T.P. and the Umlaut another band performed, I think their name was`gray with no echoes`, I don`t know. They weren`t bad but had less pep ( more quiet).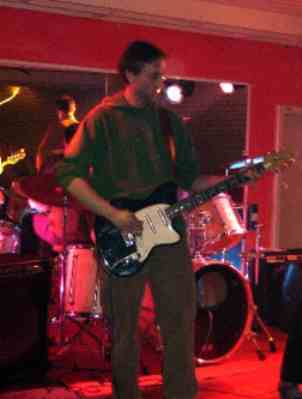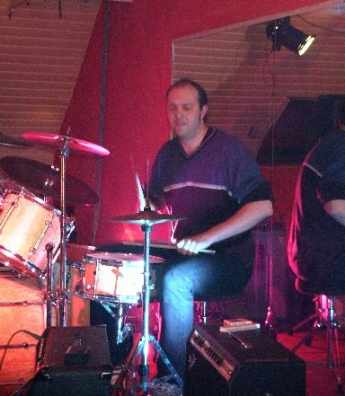 I hope you can make yourself a picture, but as I said it was a `thing to be at
How are you? I hope things are going fine for you and you had a good start in the year 2003. I`ve started with work again, getting up early and making plans for the weekend on Monday. Oh, I am accepted to the uni in Hildesheim for furniture restoration, I`m really happy about this.
Dear Sophie, I wish you all the best and would be happy to hear some news from you!
Je t`embrasse, natalie